Next Game Night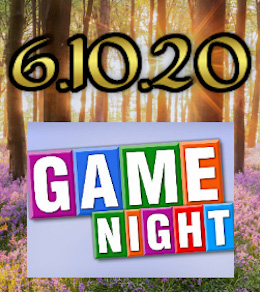 Spring Fever Edition!
This will be a mid-week, semi-virtual, unoffical event with prizes to be awarded hidden beforehand around JAGA-land. Let's do a Game Night before Spring is officially over in 2020!
Semi-Virtual means we are hoping to broadcast the event with meeting-style video chat (or just watch the feed if you prefer). We are also welcoming any local cachers who want to drop by GC8098K between 5:30pm and 8:30pm while we are on site. Stay for a few minutes or the whole time. If you just want to join in from home, that is okay, too. It is your choice!
Blair County should be in "green" phase by June 10, however, some may not be ready to meet in person, or unable or unwilling yet to travel larger distances. The video hookup (if it works) will help us stay connected for this event. For those wishing to stop by during the event time, the area around GC8098K will likely accomodate between 12 and 25 geocachers at any one time. We will have some snacks, drinks, and maybe more for those who do stop by. Please park along 18th street near the puzzle icon for GC8098K, the walk to GZ is very short from there. If no space is available, please use an adjacent block, but avoid blocking any driveways, and please obey any parking signs.

NOTE: Restroom facilities are not currently available at GZ due to ongoing remodeling, so please make use of either Sheetz #354 or Sheetz #34. Thanks for your understanding.